Welcome to the Simplicity Institute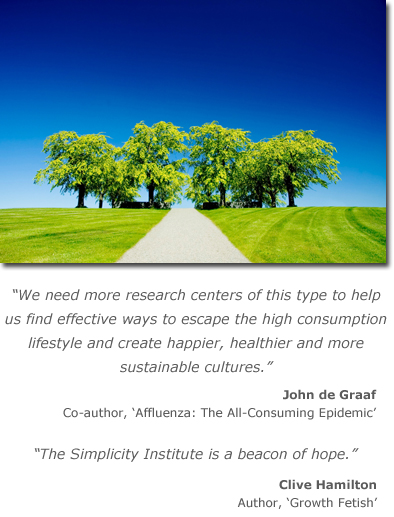 New: Simple Living in History: Pioneers of the Deep Future (2014)
edited by Samuel Alexander and Amanda McLeod
Given that the essential factor in our global predicament is overconsumption, the most obvious principle for a sustainable society is that those who are over-consuming must move to far more materially 'simple' lifestyles. This does not mean deprivation or hardship. It means focusing on what is sufficient to live well. Most of our basic needs can be met in quite simple and low-impact ways, while maintaining a high quality of life.
The Simplicity Institute seeks to facilitate the rapid transition away from growth-based, consumer societies toward sustainable and more rewarding societies based on material sufficiency. We seek to understand what a society would look like if it were based on this 'simpler' way of living and how we might get there.
We are also developing networks of active collaboration between existing participants in the Simplicity Movement, in the hope of providing educational tools and resources to help mainstream the idea that 'simpler lifestyles' provide a high quality alternative to consumer capitalist society.
Please take a look around the site to learn more: